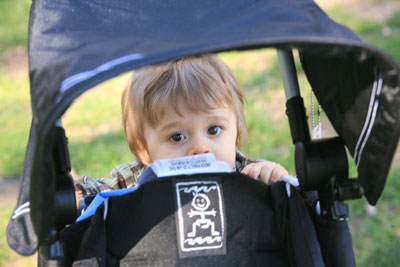 Ronan seems to love his new stroller.
To the point that he cries anytime he has to part with it.
We have come to the inevitable time when parents must part with perfectly useful baby items that are large and expensive and totally useless to us. Ronan has outgrown his carseat and his stroller.
Before he was born the mistress of all that is known, or can be known through thorough research (Terry) concluded that the Graco Snugrider (America's favorite car seat!) was the best unit for us. It was useful because the car seat snapped into a stroller frame, allowing a dual purpose use. Yes, it had a clumsy, awkward base that we had to carry around that DIDN'T fit into the stroller frame, so it wasn't as clever as it sounds. And, until recently, we had no idea that America's favorite car seat drove something like America's favorite Humvee until we got our new stroller.
I was secretly hoping that the combination car seat and stroller combo would be available in all sizes, but we had to separate into two different, non-compatible units since Ronan gained the big twenty pounds. The old stroller faced Ronan towards us, allowing easy visibility. The new stroller faced Ronan out into the world, which meant I had to stop and walk around to check in on him. I'm sure there are sound safety reasons for that, but it annoyed me no end.
I was annoyed because I was used to the Humvee of strollers, which does not allow for quick and easy movement. The Graco is a fine unit – I'm sure whomever gets our slightly used stroller will be happy with it – but it is not for delicate maneuvers. It's a tank that I constantly assumed was secretly engaging its wheellocks to thwart me. Often Ronan would end up on his head after the Graco failed to overtake a bump. Thankfully the five-point harness held. But it was tough; even airport baggage handlers could only rip off the useless cup holders in frustration after trying to jam it into the gate check without any damaging effects. I'm glad we never had a car wreck with it, but I'm sure Ronan would have been fine (assuming we strapped it in correctly.) The Graco is a hell of a solid unit.
The new Mia Moda Cielo showed me just how much of a large, fuel-guzzling, human powered vehicle we've been pushing around for a year. I no longer care about carrying a car seat and a stroller around, because pushing the Cielo is like driving a feather. I can steer it with one hand. It lives to go over bumps that would have made the Graco cry and seek another path. It folds up – not in the five seconds advertised on the website, but close – to something so small, it's shocking. I'm sure with practice I will get that thing closed in no time.
The car seat replacement is also strong. It feels much heavier, perhaps because it's rated to 40 pounds. Supposedly it will take another two years for Ronan to put on that much weight. We tried it this weekend when we fly to Buffalo. But that's a story for another blog entry.
Part of this whole parenting thing is losing your concern about waste. Kids waste a lot of stuff. Ronan smears as much food on his face as he eats. We have yet to find someone to take the Graco, but we will definitely be recycling it to another needy parent since it has almost no wear.
The Graco will even come (eventually) with new, never-used padded inserts. Apparently the Graco Snugrider was recalled for having padding that disintegrated in the wash, causing tasty-looking morsels to extrude out of the seams. Graco, for free, sent us a new liner, which is apparently being shipped via snail, since it's been months since we ordered it.
Ronan grew out of his first major expensive item before the company could recall it. We solved that problem – we never washed the liner. It seems like he grew up so fast, he never really used it.
Do any of us remember our first stroller? I know I don't.